VITABLOCS RealLife® for inLab®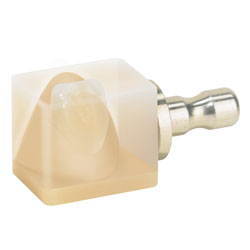 Phôi sứ thẩm mỹ cho răng trước theo công nghệ CAD/CAM
giống như thật trong cả 3 chiều.
Mô tả sản phẩm
VITABLOCS RealLife thế hệ mới được phát triển đặc biệt cho các phục hình răng trước thẩm mỹ cao. Cấu trúc khối 3 chiều với lõi ngà và lớp men phủ ngoài giống như cấu trúc răng tự nhiên làm nổi bật đường nét màu sắc uốn cong giữa ngà và men.
Do đó các phục hình với VITABLOCS RealLife có được sự cân đối hơn của cổ răng hoặc men răng, tương tự như màu răng thật còn lại của bệnh nhân. Vật liệu VITABLOCS RealLife được làm từ vật liệu sứ feldspar loại mịn VITABLOCS, một vật liệu đã được chứng minh trên lâm sàng qua hàng triệu lần.
For highly esthetic reconstructions in the visible region
Shades
VITA SYSTEM 3D MASTER®
0M1C, 1M1C, 1M2C, 2M1C, 2M2C and 3M2C
Geometry
Package with 5 pieces
RL-14/14 (14 x 14 x 18 mm)
VITABLOCS RealLife® products
VITABLOCS RealLife® for CEREC®/inLab®
VITABLOCS RealLife for CEREC/inLab MC XL, RL-14/14
VITAVM®9
Natural fine-structure feldspar veneering ceramic for zirconia frameworks, VITABLOCS Mark II and PM 9
VITABLOCS RealLife – SYSTEM SOLUTIONS*
VITA offers VITABLOCS RealLife with specific holder systems for the CAD/CAM systems:
CEREC/inLab (Sirona Dental GmbH)
KaVo ARCTICA/Everest (KaVo Dental GmbH)
VITABLOCS RealLife – UNIVERSAL SOLUTIONS*
VITA offers VITABLOCS RealLife with universal holder system for the CAD/CAM system:
CORiTEC line (imes-icore GmbH)
*) Note: The range of geometries/shades of VITABLOCS Mark II available may vary for the individual CAD/CAM system partners or systems. The hardware and software requirements in each case are available from the respective CAD/CAM system partners and can be downloaded from www.vita-zahnfabrik.com/cadcam in the form of system compatibility information for VITA CAD/CAM materials.